Get into the 
Sonoma State of Mind!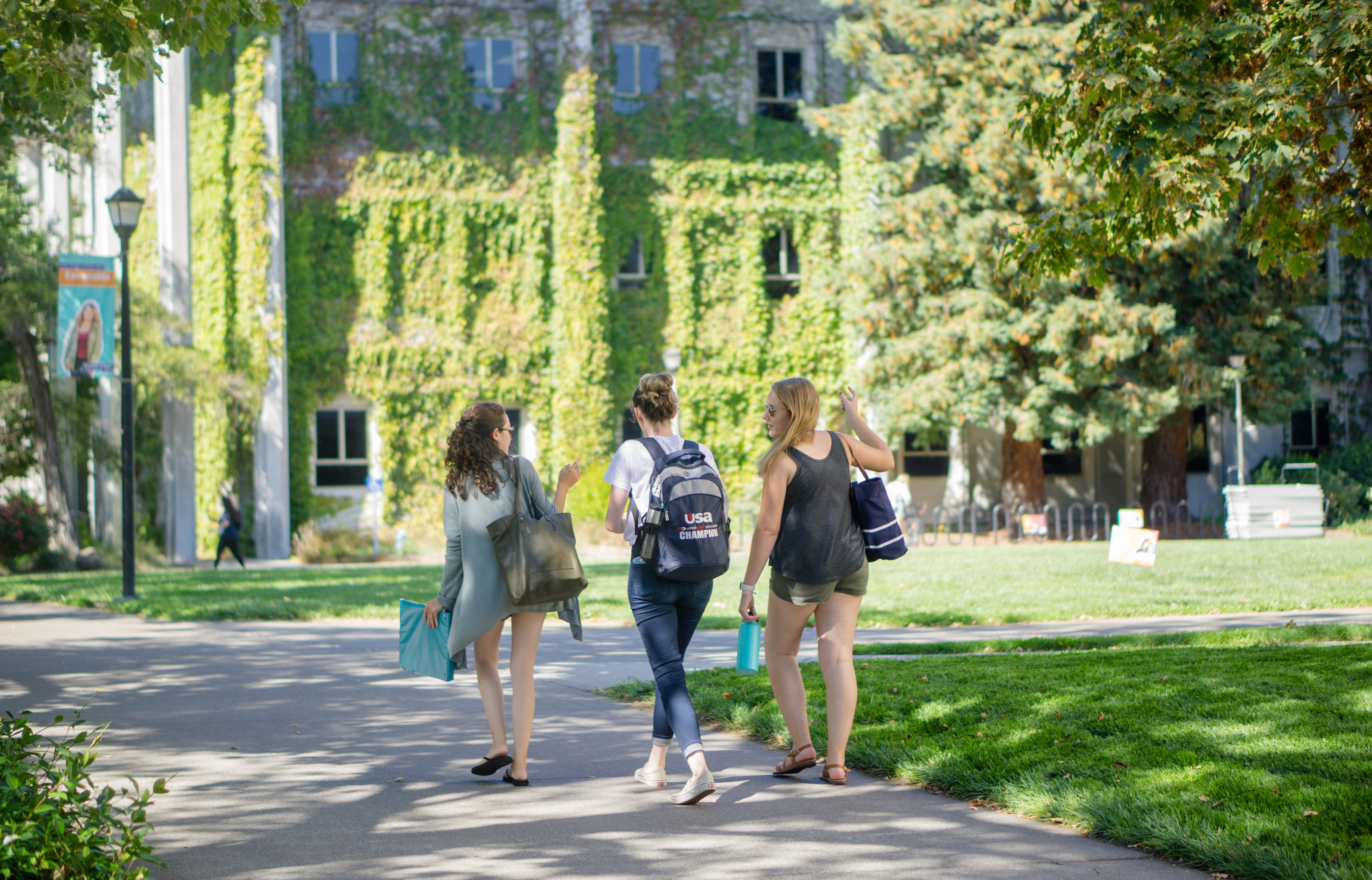 Please join us for Sonoma State University's Fall Preview Day, Saturday, October 22, 2022. Registrations are due by Sunday, October 16, 2022.
Register for Preview Day Today!
Sonoma State is Now Accepting Applications for Fall 2023!
Agenda
10 a.m. - 10:30 a.m.
Check-In at Seawolf Plaza

Coffee & Pastries
10:30 a.m. – 12:00 p.m.
LOBOTalks
Location: Ballroom A
Get ready for an exciting speed round of fascinating mini-lectures from some of our most admired professors at SSU.
School of Social Science: 

David McCuan, Ph.D.

"Upheaval & Unrivaled: The Unparalleled Midterm Elections of 2022" What do We know about Midterm Elections?  How do non-presidential elections matter for both parties this year as we build to the 2024 Presidential Election?  What are the key issues and key indicators to watch headed into the "Midterm Vote?"  Please joins Us for a look at next month's national Midterms.

School of Science and Technology: 

Lisa Hua, Ph.D.

"Current Research in the Hua Lab: Understanding Chromosome Organization and its Implications in Human Disease"

 

The goal of the Hua lab is to uncover how human cells regulate their chromosome organization during cell division throughout normal and disease states. Chromosomes are packaged DNA structures that consist of an individual's genetic information. During cell division, chromosomes will duplicate and divide equally among two daughter cells. Abnormalities that occur during cell division can lead to detrimental consequences such as cancer development and malignancy.  We are taking a biophysical, molecular/cellular, and evolutionary approach to address a fundamental paradigm of how chromosomes are organized in human cells. Our studies will allow for an understanding of genome organization and its implications in human disease.

S

chool of Education:

Edward G. Lyon, Ph.D.

"Do I say it

My Way or the Smart Way?" Rethinking Science Teaching in Multilingual Classrooms. 

This talk describes education research that explores new approaches in preparing science teachers to teach in multilingual classrooms. In particular, the talk illustrates the inequities that occur when teachers restrict the vocabulary, discourses, and languages used by students - and how we can instead prepare teachers that recognize, celebrate, and leverage the diverse languages and lived experiences that students bring to make sense of complex science ideas and practices.

School of Business and Economics:

Dr. Nadiya Parekh

"How can Business Organizations Discover their 'Purpose' Beyond Maximizing Profits?"

 

Organizations around the world are looking to transform themselves to meet the needs of the 21st century and reflecting back on their 'Purpose'. This mini lecture is on what this transformation wave of 'Purpose-Driven Businesses' (PDB) means to employees and leaders, and how the corporate world will need them to champion the cause of integrating Purpose to business strategy.

School of Arts and Humanities:

 Asst. Professor Gina Baleria 

"Digital Engagement and the Power of Cultivating Connection Rather Than Polarization" 

Learning about digital media must go beyond basic content creation strategies, skills, and tools. We must also grapple with the ethics underpinning the content we create, as well as how this content is delivered. Framing and tone of a video, podcast, social media post, or article can lead to division and discord OR the cultivation of connection and understanding. Algorithms that decide what content we see can either lead us down dangerous rabbit holes filled with conspiracies and misinformation OR provide content with a wide range of fact-based perspectives to help us learn, understand, communicate, and see each other's humanity. Our students will be ones who contribute to the direction of the digital media industry. Our job is to help them develop a foundation for navigating these challenges.
12:00 p.m. - 1:00 p.m.
STUDENTTalks
Location: Ballroom B
Join us for our break out sessions where students can ask the questions they really want answers to.  What's it really like to be an SSU Seawolf?  What is campus life like? How do I know what classes to take? 
PARENTTalks
Location: Ballroom A
Let's not forget about our parents. They have questions too. Listen in and gain insight from current and past parents of SSU students, along with hearing from our Alumni.  This is your opportunity to ask questions to the people who have experienced it first-hand.
12:00 p.m. - 2:30 p.m.
Club & Resource Fair in Seawolf Plaza
Explore SSU clubs, organizations and academic programs. We have a lot to offer on our campus. Come meet current SSU students, alumni, staff and faculty. 
12:00 p.m. - 3:00 p.m.
Application Workshop
Need assistance with your application? Have a financial aid question, or want to speak with an advisor? Stop by Salazar 1018A to get guidance from our wonderful support staff.
Now accepting Applications for Fall 2023. 
1:00 p.m. & 2:00 p.m.
Campus Tours
Campus Tours will be available. Tours will begin in front of the Welcome Center in Salazar Hall. The tour will highlight Student Life & Activities, the Student Center, Recreation Center, Housing, Schulz Information Center, and Academics.
Register for Preview Day Today!
Additional Activities:
Dine On-Campus at The Kitchens
Enjoy an all-you-care-to-eat experience at The Kitchens at SSU. Dine for only $7 per person, which includes a one-time entry between 10:00 a.m. to 5:00 p.m. Pre-order online at tickets.sonoma.edu by October 21, 2022, or purchase in person at The Kitchens. Enjoy this special deal for our new Seawolves and their families! Please bring a copy of your pre-purchased ticket with you for entry.  
Recreation Center Open House
Complimentary Access all weekend
Enjoy the amenities of the Rec Center including basketball courts, fitness center, ping pong tables and much more!
Cheer on our SSU Volleyball team!
Admission is FREE with Promo Code
Tickets required. Use promo code: Preview22
Attend SSU's Fall theatre production of "Water by the Spoonful"
Tickets are FREE with Promo Code
Tickets required. Use promo code: Preview22